4/22-24 Blaxland Road, Bellevue Hill
28 Feb 2019

Sibella Court lists Bellevue Hill apartment for $1.7m for Bundeena sea change
Lucy Macken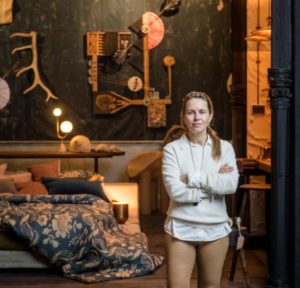 Sibella Court is set to farewell Sydney's eastern suburbs, swapping her Bellevue Hill apartment for a sea change in Bundeena on the city's outskirts. The renowned designer, author and TV presenter has long divided her time between a Sydney pad and Byron Bay where her partner, Ben Harper, is a director of McTavish Surfboards.
 
In recent years, that Sydney pad has been an art deco apartment she bought in 2016 for $1.65 million, less than a year after she sold her Victorian-era shopfront home in Paddington for $1.34 million. Like that historic property, Court has undertaken a renovation of her Bellevue Hill apartment. As she said in Vogue Living in late 2017: "The previous owners had a lot of built-in storage, and we ripped everything out.
"Originally there was a wall dividing the living area and a very little kitchen. It was dark and there was all of this wasted space, so we took the wall out." The host of Restoration Australia and founder of studio and oddities and curiosities retailer The Society Inc, bought the apartment in Bellevue Hill because it was close to friends in Sydney.
"The garden is irrigated because we travel all the time," she also told Vogue. "That's the nice thing about living in an apartment — you can just walk out and not worry about security.The choice of colours in the apartment is a predominant feature, as she told Domain last year on the eve of the release of her new coffee table book, Imaginarium: A Compendium of Inspiration.
Anthony Puntigam, of Phillips Pantzer Donnelley, has set a March 30 auction date and a $1.7 million guide. Court revealed her upcoming sea change to Bundeena, on the beachfront of the Royal National Park, in a recent Instagram post in which she announced her selling plans. "Rearranging my apartment today to get ready for its upcoming sale!"
https://www.domain.com.au/news/sibella-court-lists-bellevue-hill-apartment-for-1-7m-for-bundeena-seachange-805353/?fbclid=IwAR2kWdjru7ls0Dc4L1KE3tqDLZyZ_fc4WwLu7LAoASHAd0ViXbPmQ8iIJDE